Earlier in the year we decided that looking for each of the locations in the 930 Spender photographs would be far too time consuming for just the two of us, especially as neither of us know Bolton that well, being a Mancunian and a Wiganer. So we decided it would be good to ask you lot, the members of the public, and so the mini project 'Worktown: Lost Locations' was born. Our own searches had revealed that a number of the locations were different from what Spender had titled them as, and some weren't even from Bolton! So we decided to enter into public engagement with an amount of caution.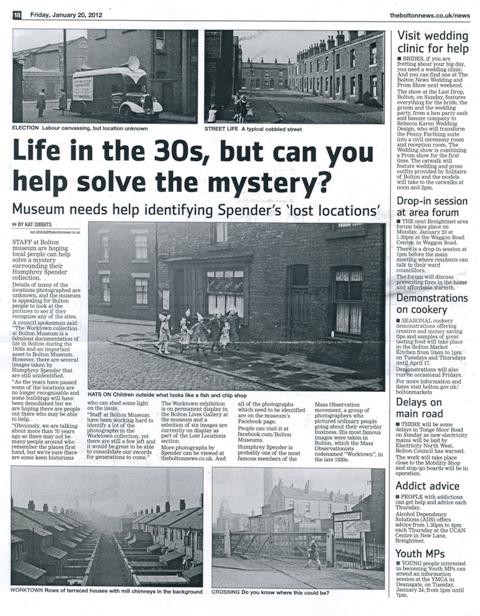 In order to stir up public interest we put on a small exhibition in the Worktown Gallery section of Bolton Museum's 'Bolton Lives Gallery', along with this the Bolton News kindly put a full page article about the project and we linked this in with a group on Facebook. Response's to both the Bolton News article was fantastic, and really helped raise the profile of the Facebook campaign.
Naturally though, having realised that some of Spender's IDs were wrong (and he took the photos!) we would probably have a bit of work to do confirming the publics suggested photo IDs. We decided it best to double and triple check the suggestions. We weren't quite prepared for some of the responses we would get.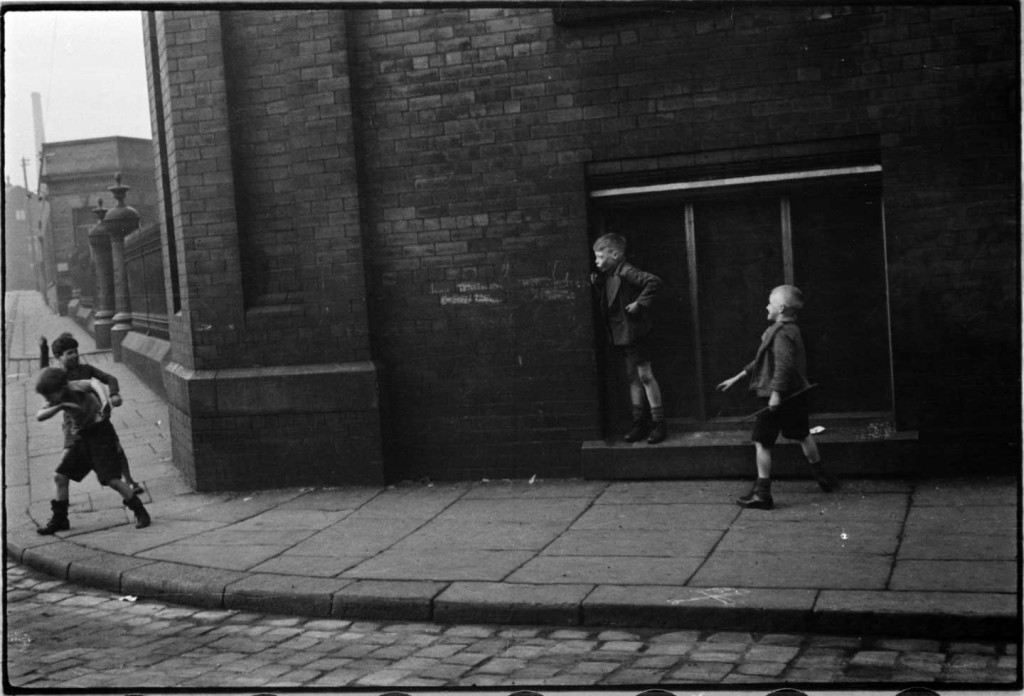 Having weeded out several strange comments which, the comment on this photograph seemed just as unlikely, albeit rather more normal.
Norman King: 'The boy on the ledge is my late Uncle Bob…and the boy to the right is his friend Billy'
Of course, we had prove that this claim is true, but how is that possible? The only way would be to have a picture of both Bob and Billy, about the same age as in the Spender photo, facing the camera. Its not very likely that a family in working class Bolton would have had many photos anyway. However, I asked for such a photograph from Mr King. Given how specific it would need to be I believed it would be impossible for Mr King to produce, and so I carried on with the other identifications. How wrong I was.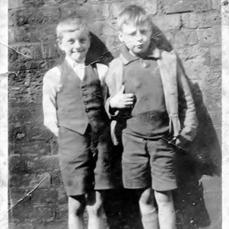 This photograph came in an email a few days later. I could not have asked for a better photograph. Exactly as I had requested. We began to realise that its possible to identify people in the photographs, even 75 years on, and not just the locations. We decided to ask Mr King and his brother to do a little bit of recording with us at Bolton Museum, recordings which made it into the current Worktown 75th Birthday exhibition.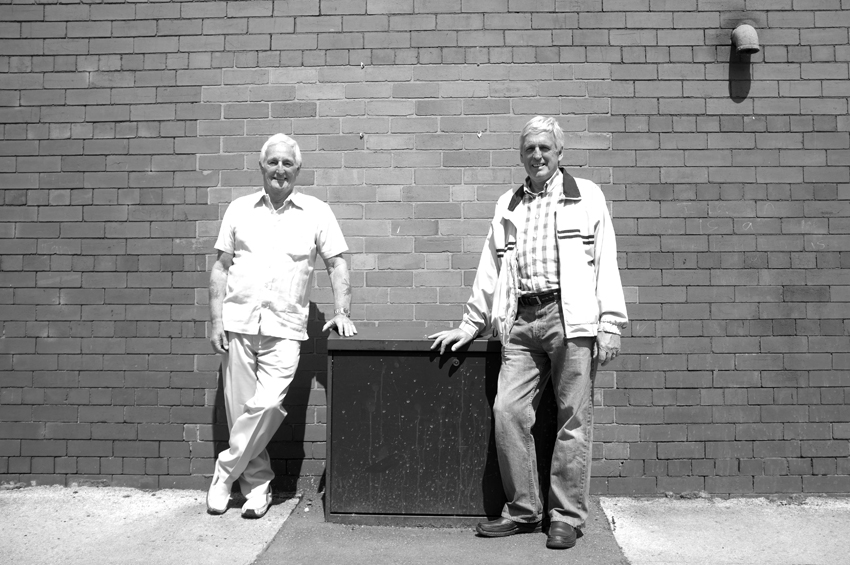 Caroline Edge took the two brothers to the same spot where their uncle and his friends were snapped playing by Humphrey Spender 75 years ago.
But the story gets better! A message left at the Museum reception desk said 'please contact Mr Doeg as his name has been spelt incorrectly in the exhibition'. It didn't immediately click who this man is. We had incorrectly spelt this mans name as 'Billy Doig'. This man was Uncle Bob's friend Billy! In the next few months we hope to work with Bill and do a little bit of oral history recording, so watch this space. Who knows, he might even remember Humphrey Spender standing there taking the picture!
I wonder if he would have ever made himself known if we hadn't spelt his name wrong?