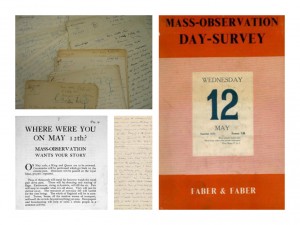 Would you like to become an observer? The Mass Observation Archive are asking for volunteers to keep a day diary on 12th May 2013.
In 1937 Mass Observation called for people from all parts of the UK to record everything they did from when they woke up in the morning to when they went to sleep at night on 12th May. This was the day of George VI's Coronation. The resulting diaries provide a wonderful glimpse into the everyday lives of people across Britain, and have become an invaluable resource for those researching countless aspects of the era.
The Mass Observation Archive is repeating this call on 12th May 2013. The resulting diaries will be stored in the Archive alongside the 1937 documents. May 12th 2013 is likely to be quite an ordinary day, but for those researching, the 'ordinary' can often provide extraordinary results.
You can find out how to take part here