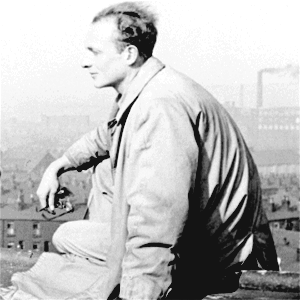 Humphrey Spender's photographs of Bolton are a unique document of everyday life in a working class community in the 1930s. They are regarded as internationally significant in the development of documentary photography. Spender was one of the first British photographers to use a rangefinder camera and 35mm film. This meant that he was able to capture candid shots of life in action rather than the posed compositions required by a heavy large format camera.
Spender became fascinated with photography at an early age, learning from his idolised older brother Michael. He trained as an architect to please his family but had no real passion or aptitude for the subject. As the global depression of the 1930s impacted on the building industry he was unable to secure a job in architecture and returned to his true passion.  He set up a London based portrait studio and his family connections gave him the opportunity to photograph the rich and famous.
He had a strong social conscience despite his privileged background. Through liberal friends he became concerned about social injustice. He realised that his photographs could draw attention to inequalities in society rather than just being pretty pictures. He photographed living conditions in the slums of Stepney to draw attention to the causes of juvenile crime and was commissioned by Left Review to document the Jarrow Hunger Marchers.
His photographs and connections drew attention and he was soon recruited by the Daily Mirror to become a roving photographer. As 'Lensman' Spender travelled round the country capturing artistic feature photographs. He was becoming frustrated by the newspaper's demands for clichéd and staged photographs when he was contacted by Tom Harrisson who asked him to join Mass Observation's Worktown study of life in Bolton. Harrisson wanted to recruit photographers as he believed that the camera was a "scientific instrument of precision" which could be used to check the accuracy of written observations.
Spender took around 850 photographs in Bolton and Blackpool on a series of visits between August 1937 and April 1938. He also made a number of paintings and drawings in the town which were sold to private collectors and have become lost over the passage of time. He also made a number of written observations which are held in the Mass Observation Archive and provide a fascinating accompaniment to his photographs.
Photographing life in Bolton was not easy. Humphrey Spender came from the south of England and said he 'felt very much a foreigner' in the industrial town. He was distressed by the grimy brick streets and murky weather. His accent marked him as a stranger and he often got lost. His rangefinder camera stood out 'like a sci-fi contraption' and was technically complicated to use. Although his photographs are regarded as one of the most important contributions to early documentary photography in Britain Spender's admission of unease have led some writers to criticise them as voyeuristic class tourism. However there is no doubt that Spender wanted to take truthful and useful photographs which precisely documented the details of everyday life. He realised people altered their behaviour for the camera and so developed ways to photograph unobserved. For example he would hide his camera under a raincoat and take photographs at waist height without looking through the viewfinder or shoot with his camera casually placed on a pub table.
Although Spender's photographs featured in some Mass Observation magazine articles, a lack of money limited their use in the books produced by the organisation. They were rediscovered in the late 1970s by researchers who realised their importance as both photographic and historical documents. A selection were published with an interview in the book Worktown People. Bolton Museum acquired the negatives in the early 1990s and they now form the core of the Worktown Archive. The photographs have provided inspiration to other photographers and artists and provide a valuable historical resource for researchers.
Spender went on to work as an official photographer during the Second World War but gradually concentrated on painting and textile design. He had a distinguished career teaching textiles at the Royal College of Art and many of his designs became popular household classics. He returned to Bolton twice. In 1960 he joined a team of returning observers who came to see how life in the town had changed and in the early 1980s his visit was recorded for the film "Return Journey" by director Ian Potts. He took two rolls of film during his eighties visit which are now in the Worktown Archive. His artistic shift from photography meant that his contribution to the sixties revisit took the form of sketches and written observations. These feature in the book Britain Revisited alongside photographs taken by Michael Wickham.